1994 Eva and Frank Privett Interviews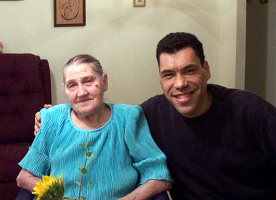 The following are MP3 audio files of conversations I had with Eva Privett on November 26 and 27, 1994, a few days after Thanksgiving. My father had recently had a major stroke and I drove up to Salem, MO to visit with grandma and grandpa in an effort to connect with my past before it disappeared in the mists of time. Eva's son Herman came over to visit in the late afternoon and joined us for some leftover turkey and conversation on a variety of topics.
The conversations were recorded on a portable cassette recorder with dubbing to MP3 on 11/15/2007 and 12/12/2007. They are divided into smaller files to facilitate easier downloading and indexing. Some of these files are quite large and may take an extensive amount of time to download if you connect with dialup modem. Total playing time for all files is around six hours (four 90-minute tapes).
Access to these MP3 files is password protected to limit access to the immediate family. Contact me at the address below if you want access
4a-5b: I don't want to stay here forever, anyway
1b-1: Genealogy book
1b-2: Privett genealogy and photos
1b-3: Privett genealogy (cont'd)
1b-4: Cleaning up the old cemetery, cremation vs burial, resurrection
2a-2: Discuss detail of family
2a-3: Herman arrives, discuss Howard and high blood pressure
2a-4: Discuss Herman's family and grandpa
2a-5: Herman discusses retirement
2a-6: Restart discussion after meal, Joan's independence
2b-1: Continue discussion of Joan's independence, Howard's rehab
2b-2: Rural vs city, caring for Howard
2b-3: Car maintenance, handicapped van
2b-4: The depression, WWI, Gettysburgh
2b-5: Broken families, immigrants (tape restart)
2b-6: Marrying 1st cousins, family history in area, the mill (transcription)
3a-1: Continue mill, Cedar Grove (Uncle Alec?), Morton family (transcription)
3a-2: The Schafers (transcription)
3a-3: The Mortons (transcription)
3a-4: The Andersons (transcription)
3b-1: The Andersons (cont'd) (transcription)
3b-2: More on the Schafers (transcription)
3b-3: Chat with Herman, Herman leaves
3b-4: Finish the grandchildren
3b-5: Great-grandchildren
3b-6: Lots of kids not married, social pressure on family
3b-7: Scots Irish, racism, living in St. Louis
4a-2: Herman Privett, Sr.
4a-3: George Washington Morton, the Civil War (transcription)
4a-4: Lucille Griffith / Griffis
4a-5a: Birthdays, World has changed alot, NYC Subway
4a-5b: I don't want to stay here forever, anyway
4a-6: Living and working in NYC, bedroom
4a-7: Plane to St. Louis, goodnight, water pump sound
4b-1: Married life with Frank
4b-2: Bill's first marriage
4b-3: Annette's family, It's a funny world, but we have to live in it
4b-4: Living in St. Louis (2321 Olive)
Grandma and I also went to the nursing home to visit with grandpa, who had been committed only a few months earlier. Unfortunately, his mind was really starting to slip by that point, limiting how much meaningful information could be communicated and making these recordings somewhat difficult to listen to. However, occasional moments of his winsome personality were still present despite his obvious depression and failing powers of memory, attention and comprehension.
1a-1: Introductions (poor quality)
1a-2: Talk about Salem, the nursing home
1a-3: Talk about parents
1a-4: Discussion in lobby
1a-5: Frank leaves for lunch, post-interview discussion with Eva (poor quality)