Eva Alpha Privett (nee Morton) Geneology
The following is geneological material written by Eva Privett sometime in the mid 70's. It was transcribed here 3/11/2002. Only minor punctuation, capitalization and formatting corrections have been made.
Great Great Grand Parents Material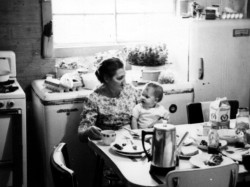 James Washington Gearhart came from Germany to Overton, Tennessee date not known. Was married to Sarah Roberts Barn in Jackson County, Tennessee date not known. In 1853 James and Sarah came to Missouri with other families in covered wagon and driving oxen. They settled on Hutchings Creek in Dent Co.
Seven children were born to them in Tenn. Two other children were born after coming to Mo. Names of three of their whereabouts are: Valentine (Val) 1848, James Robert, 1847, Mariah Channing, 1855.
Valentine married Louisa Gamblin. Their children were Lee, William Alphus, Matt, Luke, George, Mary Gearhart Simmons. Val, as was called, was born in Tenn. and was seven when the family came to Mo.
James Robert (Gearhart) also born in Tenn. He was married to Julia Angeline Cumming of Salem, Mo. To them was born thirteen children: Charles R. 1873, Laura Etta 1874, Emma Bell 1880, Benjamin Franklin 1885, James Frederick 1887, William Thomas 1890, Ruth, Annie, Ada. Four died in infancy.
(material cut off)
Their children were James Washington, David, William (Bill), Oliver, Sarah (Cadie) Ira. David married Stella Taft one living child, Ester. William, Virginia B., Mary, Titus, Mattan. Sarah Cadie married Leslie Culbertson. Four children born to them names not known. They lived in Evansville, Ind.
Oliver was married to a woman at Burbon, Mo. They had some children names not known. Ira was married also at Burbon, Mo. Wife's name unknown. They had 4 girls.
James Washington Morton, known as JW or Jim, married Sarah Elizabeth Anderson.
William (Bill) married Virginia Bryant. Bill liked the farm but Virgie didn't. She was a school teacher so they owned the Turtle store for a time, then back to farming until they went into the store business again in Salem. They bought chickens and eggs and did some trucking along with feed & Groc store. They owned the property where the Health Center is on McArthur now. The building burned. He passed away in 1939. Their children were Paul (deceased), Mary, Titus, Nathan. Virginia remarried a man in Fort Smith Ark. a Mr. Shepley.
Grand Parents
James Washington Morton was married to Sarah Elizabeth Anderson 1897. James was born on Dry Fork, Dent Co. At the age of two his parents moved to a farm in the Cage community (where Eva was born), living on the same farm until 1923 when he sold household items and livestock keeping the farm 240 acres he had purchased from his parents about 1898 or 99.
Mother said she wasn't gonna stay on the farm and tussle with the stock, so they moved to St. Louis.
Moved to St. Louis, Mo. Bought a rooming house of 11 rooms, for the family 4 rooms. The rest to rent. He worked at Ford Motor Co. until 1929 before returning to the farm. In 1943 he and Sarah went to Kansas City for a shot time working at North American Aircraft Corp. (old Ford plant) In 1944 he sold the farm to a son & his wife Zelma bought an ajoining farm where they lived about one year. Moving to Turtle, Mo. and buying a store after selling the farm in 1949 or 1950. Sold the store & moved back to the Cage community buying the farm 40 acres from Paul & Artie Hamacker to retire on.
Sarah passed away Jan. 9, 1958. James (Jim) passed away Sept. 20, 1960. Both buried at Corinth Baptise Cemetary.
Uncle Marion got married late. When he passed away, his wife committed suicide.
Sarah Morton had dislocated knee cap that was never attended to.
---
Mariah (Gearhart) Morton, my grandmother, daughter of James Washington Gearhart came from Germany to Overton, Tennessee and married Sarah Roberts who was born in Jackson County, Tennessee in 1853. George (sic James?) and Sarah came to Missouri with other families in covered wagon driving oxen. They settled on Hutchings Creek in Dent County.
There was (7) seven children born to them in Tennessee. Two children were born here. James settled in Overton, Tennessee upon coming from Germany.
James Robert, the 4th child, was born in Overton on Jan. 2, 1847 (1849?). Married Julia Agneline Cummins of Salem, Mo. They lived on a farm on Dry Valley where 13 children were born: Charles R., born Jan. 23, 1873, Laura Etta, Oct. 8, 1874, Emma Bell, Feb. 6, 1880, Benjamin Franklin, Jan. 20, 188?, James Frederick, Sept. 4, 1887, William Thomas, Jan. 6, 1890, Ruth, Annie, Ada. Four died in infancy.
Valentine (Vol) Packwood Gearhart married Louisa Gamblin (aunt of Granville Gamblin). Vol moved to the Jadwin Community in 1911. A good blacksmith and hunter. Their children were: Lee Gearhart, William Alhpus, Matt, Luke, George & a girl Mary. She was Mary (Gearhart) Simmons.
Lee married Ada Lough. Their children: Vivian, Belew, Paul, Lloyd, Jewell. The names & whereabouts of the other children of my maternal great grand parents are not known.
Lenore Gearhart (1843?), Harrison Issac (1859?), Lulla Foust mother, second marriage to Robert B. Russell. Geo. W. Russell 1/2 bro. & sister.
Mariah Channing (Gearhart) Morton, born May 16, 1855 (died 1947?) married Geo. Washington Morton (1856-1918) about 1875. To this union were born James Washington Morton (1879-1960), David, William (Bill), Oliver, Ira (Sadie) and one infant child died before 1 year old. All the boys are deceased.
James Washington (J.W. or Jim) was born at Dry Fork community. At the age of two (2) years his parents moved to the Cage Community as then known, now known as the Corinth Community. Most of his life was spent in this county except for brief times once 1923-1928 when he worked in St. Louis at Ford Motor Co. again in 1943 about one year in Kansas City working at North American Aviation Corp. Living on the farm his parents had purchased when he was 2 until 1944 when he sold the farm ot his son Jerry and his wife Zelma. The farm at present belongs to Andy Anderson.
James W. married Sarah Elizabeth Anderson. Married by the Rev. Silas Compton at 3 P.M. Aug. 25, 1897 and witnessed by Hattie Compton & Lee Wilson. A family of eight children was born to them: (4) four boys James Herbert, Laurence Alan, George Washington, Jeremiah (Jerry). Four girls: Bessie Elizabeth, Lillian May, Eva Alpha, Dorothy Cleone.
Frank Privett
Herman Privett (1879 - 1914 or 1915). In 1902 Herman married Lucinda Varden (1886-1972). To this union was born William Franklin (Frank) (1904 - ) Lizzie Bell (Elizabeth) (19??-1971), Jeff Davis (Jeff) (1909 - ). All were born at Kelso, Ark, Deesha County.
Herman had one brother, William Franklin. Also it was believed he had a sister Hattie. These records are from the memories of Herman's oldest son, Frank.
At a young age, the Herman Privett family lived in or near a logging camp in Deesha County, Ark. There were several cabins, a trading post where the workers bought their supplies & groceries and credit was available until the purchaser could work for money to pay. There was a shed or barn there to house and feed the oxen used to work in logging. Logging was Herman's occupation. He raised crops at times to supplement his income or livelihood. Hunting was his first love.
Frank remembers visiting his uncle Will for whom he was named. His father didn't want Frank's dog to follow them so he tied wire about the dog's neck tied the wire to something. William had a large farm enough to work to operate it that he hired help. While there, Frank was shown a large sow ready to farrow pigs. He was promised to be given two of the pigs.
Upon going home they found the dog choked to death. He had lost the dog but looked forward to the two little pigs. The Mississippi river flows near by Kelso. In times of heavy rains the river swells and back up water reaches far. The sow was in danger. Uncle Will took a boat and help, a colored man, they managed to get the sow into the boat. She became excited and overturned the boat. The sow got to safety, also the colored man, but Uncle Will drowned. Frank never got the pigs.
This union was broken by divorce. Herman died in 1914 or 1915.
Lucinda (Lucille) Varden Privett was orphaned at an early age and was raised by her father's sister at Kelso, Ark. She had one twin brother name not known. Only one of the Herman Privett children went to school at Kelso. Frank attended his first school year there. Lucinda and the children moved to Wilmot, Ark. living with an older sister Martha and her husband Ben Staton who was a lawyer. He helped make arrangements for her and the three children to enter an orphanage called the Working Mother's Home in Little Rock, Ark. The orphanage sent their children to a school by name Writsel School. Also another Robert E. Lee School. Frank sold papers at an early age on the streets of Little Rock to help earn his keep.
Lucinda married a second time to Mr. Ervin, widower with 3 children, Claud, Emma, Grall. This marriage ended in a short time in divorce.
In 1917, P.G., Pearl Griffis, married Lucinda Vardin Privett, making a permanent home for her and the children. Pearl had 3 daughters by a previous marriage: Mary, Mildred, Cassie.
Frank married Eva Alpha Morton in 1927 in St. Louis, Mo. Born to them were: William F. Jr., James Herman, Meriam Annette, Mary Louise, Joan Elizabeth, Bessie Carol, Geneva Frances, Linda Sue.
Elizabeth married Denty Kutson 1926. To this union two children Mildred, Hosea. Their marriage ended in divorce. Elizabeth married again to Wallace Lindsey about 1929. Born to them Loretta. Elizabeth died in 1971. She is buried at _____.
Jeff also married the second time. Jeff & Louise have one son living, Conrad. An infant child deceased a girl. They have made their home in Little Rock where they reside at 301 Oak Park Drive.
Lucinda (Lucille) died in 1972. P.G. Griffis died in 1948. They are buried at the ______ in Little Rock, Ark.