Kelso, Arkansas
Frank Privett was born on December 17, 1904 in Kelso, AR, a small community in the southeast corner of the state near the Mississippi river in Desha County. His mother, Lucinda Harper, was orphaned at a young age and is listed as living here in the 1900 census with her aunt, Eliza Varden, and twin brother, Pleasant Harper. Eliza Varden, presumably the sister of Lucinda Harper's mother or father is listed as living in Kelso in the 1880 census. Unfortunately, the critical 1890 Arkansas census that could tie these two records together was destroyed in a fire in the Commerce Department building in Washington on January 10, 1921.
Frank's father, Herman Privett, does not appear until the 1910 census, although his younger siblings (half siblings?), Willie and Addie Privett are listed in the 1900 census as living here with their cousin, Thomas Scott.
When the family separated around 1911, Frank, his mother and his siblings briefly moved to Wilmot, AR (a larger town to the south) before relocating permanently to Little Rock. Frank's father, Herman Privett, apparently remained in Kelso as a draft registration card from 1919 lists him still in the area working as a farmer. Oddly, the registration card lists his next of kin as Frank Privett living in Kelso, AR, although the family story is that Frank had long since moved to Little Rock and he is listed as living there in the 1920 census.
At the time Frank was born, Desha County was still logging country. Although there is still timber in the area on the other side of the levee near the Mississippi River and a very active Potlach paper mill on the river near Arkansas City, (which apparently has a fairly colorful history) the area around Kelso has long been deforested and is now largely devoted to cotton fields.
On an interesting historical side note, Rohwer, which is just to the south of Kelso, was home to an internment camp for Japanese-Americans during the Second World War, long after Frank had moved to St. Louis and started a family.
| | |
| --- | --- |
| Cotton fields | Cotton modules |
| Paper mill | Hwy 4 (Great River Road) south of Kelso |
Kelso
I first visited Kelso on the evening of November 2002 and returned in April of 2007. Although there are scattered collections of houses and a high school, Kelso didn't seem to be an incorporated city. Not much changed in the five years between my visits. The railroad track that runs through Kelso (which may have come after Frank had already left) appeared abandoned until further south where it joins with a spur to the paper mill. Regardless, Kelso almost certainly bears little resemblence to what it was when Frank Privett lived here in the early 20th Century.
| | |
| --- | --- |
| | |
| | |
| Speedmart Grocery | |
| Old oil well? | Kelso / Rohwer Fire Station |
| Railroad culvert dated 1945 | Route 138 back to Dumas |
Kelso Cemetery
On my first visit I drove down CR-201 and I took a brief, dark walk through the Kelso Cemetery (established in 1850) to look for familiar names. But I didn't recognize anyone, although many of the stones are weathered beyond recognition. A subsequent review of a listing of folks buried there showed no known family members. The Arkansas Death Index indicates that a Herman Privett passed away in Little Rock on 2/12/1920 and is probably buried in a potters field somewhere in Little Rock. Lucinda Privett (nee Harper) passed away on 10/24/1972 and is buried at Roseland Cemetery in Little Rock. So, although there may be Privett or Harper ancestors buried in Desha County, it is impossible to know until we can figure out who those ancestors were.
Highway 138
The 1910 census lists Frank Privett as a 6-year-old living with his parents, Herman and Lucinda in Jefferson Township. Unfortunately, the census record is not specific enough to pinpoint an exact location, but Jefferson Township is just to the west of the current town of Kelso, which is in Richland Township. This makes it possible that the family lived along Amos Bayou, which now runs parallel to the current Highway 138. I recall Grandpa mentioning that "Blue Bayou" was one of his favorite songs because that was the kind of place he grew up in. Perhaps his memories were from someplace along this road.
Rohwer Lane
The county maps of the area to the west of Kelso show a number of roads that cross the levee and enter the wooded flood plain near the Mississippi River. I decided to try following Rohwer Lane to see if I could get to the river, but after crossing the levee (which is topped with a gravel road for logging trucks), I was confronted with a no trespassing sign for some hunting club that owns the private road. Hearing the disturbing echo of banjos in my head and not wanting to revisit the internment camp days, I heeded the warning.
| | |
| --- | --- |
| Rohwer Lane | Boggy Bayou |
| | |
| | |
| | No Trespassing |
| Tempting, but no thanks | Logging road on the levee |
Goodbye, Kelso
Fittingly, my return flight in April of 2007 from Monroe, LA to Memphis, TN followed the Mississippi River and passed over Kelso, AR.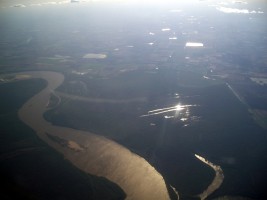 Kelso aerial view