Salem, Missouri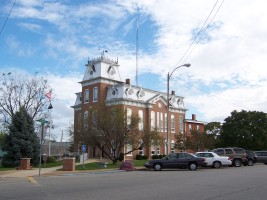 The Privett family's earliest roots in Dent County, MO date from around 1853 when George Washington Gearhart and his wife, Sarah (great grandparents of Eva Privett), moved there from Overton County, TN in a covered wagon. The Morton family's presence in the area began sometime between the birth of George Washington Morton (Eva Privett's grandfather) in 1854 in Tennessee and his marriage to Mary Mariah Gearhart around 1878. The Morton's farm about 7 miles south of the county seat of Salem was where Eva Privett was born and she spent almost all of her life in that same general area, except for a period when she lived in St. Louis in the 1920s and early 1930s.
The earliest white settlers in this area came around 1829 and Dent County was formed by the Missouri Assembly in 1851 from parts of Crawford and Shannon Counties. Dent County was named for Lewis Dent, who was the county's first representative in the Assembly. Although the village of Salem had its first mayor in 1860 (W.P. "Rip" Williams), it was not officially incorporated as the November 8, 1881. The Victorian courthouse pictured on this page was built in 1870 by A.E. Dye and is listed in the National Registry of Historic Places.
While there has been some light industry at various times in its history, the economy of the area has been dominated by minerals (iron and lead), lumber and farming. The construction of Montauk State Park in 1927 south of Salem encouraged development of a modest tourism industry for recreation on the spring-fed Current River. However, Salem remained remarkably unchanged from my earliest memories of it in the early 1970s, with the addition of a Wal-Mart Supercenter (and the subsequent typical abandonment of downtown) being the only obvious major difference as of 2007. Its remote, quiet location isolated from major urban areas is both an asset and a barrier to economic development. However, as the American population continues expanding and concentration of wealth promotes investment in land, more drastic changes do seem inevitable in the 21st Century.
Round Spring is a large cold spring that feeds into the Current River just south of Salem and the former Privett farm.