Michael Minn
Instructor, Developer, Musician, Photographer

Developer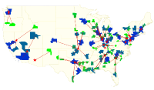 I created and support MMQGIS, a plugin tool set for the QGIS open source geographic information system. My thesis project at Hunter College was TRAMM, a web-based framework for visualizing "transportation poverty." using Open Layers.
I am an advocate for the Linux computer operating system, which I have used on my home systems exclusively since 2000. I have a Linux+ / LPIC-1 certification and I have maintained a number of Linux installation and documentation pages over the years.

I am well-versed in C/C++, PHP, Python, R, HTML, CSS, and Javascript, and all of my personal web content is hand-coded and ad-free. I have been working with various flavors of UNIX since graduating from North Texas State with a Master's degree in Computer Science.
Actor
From 1991-2006 I worked in theatre in New York City. Off-Broadway I appeared as a performer in the musicals Making Tracks and Shanghai Lil's. Regionally I appeared in productions of 42nd Street (Julian), The Pajama Game (Sid), The King & I (King). Television credits include All My Children, As The World Turns, The City, Law & Order and background work on an extensive number of other forgettable television shows and feature films. You may view my theatrical photo résumé HERE...
I toured four seasons with the award-winning children's theatre company Theatreworks/USA (Secret Garden, Swiss Family Robinson, Charlotte's Web, Romeo & Juliet) and worked as a stage manager with Artspower, The Kaleidoscope Theatre Company and the 78th Street Theatre Lab. At various times I have been a member of The Dramatists Guild, Actors Equity Association, AGMA, AFTRA and SAG.
I maintain a marginal connection with the theatre by maintaining the ballet history site Andros on Ballet as a legacy for the late instructor Dick Andros, as well as the website for the Obie-award-winning The National Asian-American Theatre Company.